Visible VerseTM Devotion Cards
These cards use Scripture as a lens through which to view the created world. Each card contains a Bible verse (Visible VerseTM ), a related creation image, and an application- focused discussion of both.
Learn amazing facts about the outdoors.
Perfect for the classroom, campfire, coffee shop, deer stand, or home decor.
Excellent tool for family devotions and Scripture memory!
Attractive images enhance recall of the biblical principles and Visible Verse TM
---
Laminated Cards
A powerful tool for Scripture memory, scientific discovery, and the application of biblical truth. The set of twelve laminated Visible VerseTM Devotion Cards are designed to be displayed in their carrying case or as a ready reference for those on the go. Great for the classroom, as a display at the home or office, or as a portable devotion for the outdoor enthusiast.
Each set comes with 12 laminated Visible VerseTM cards and display case. Each card is 5 3/8" high x 4 5/8" wide.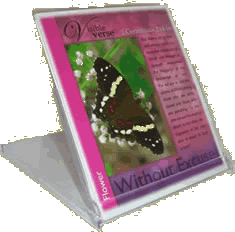 ---
Blank Note Cards
Share the lesson of a Visible VerseTM Devotion Card with your own personal message of encouragement or thanks to those you care about.
Recipients can detach the front cover and use as a Visible VerseTM Devotion Card!
Each set comes with 6 cards and envelopes.